I just got back from a wonderful trip to Croatia and came back very inspired. I pulled out the red Brian Setzer Gretsch Hot Rod from its case, plugged it into my Kemper, and started writing little guitar bits.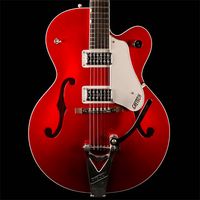 To my surprise, these little bits turned into full fledged songs very quickly. In fact, I was cranking out one per day during my first week back. So, I'm determined now to see this project through.
I've started and stopped so many guitar instrumental recording projects as I'm sure many guitar players do. Even though I have a lot of material demoed somewhere in my archives, I wanted to start fresh with this album.
The vibe is very mellow, mostly clean guitar with a little bit of dirt here and there. I'm picturing this to be a soundtrack for a nice cool Sunday morning as you wake up, put on your sweats and sit on the couch sipping a warm tea or coffee.
The current working title is Thank you for the Beautiful. It's a reference to that force, whether it be God, the Universe or the connection with nature that some of us get to tap into to pluck out the lovely melodies.